EMISSION POWER
The power required for deep hyperthermia in cancer treatment depends on some variables: the thickness of the patient, the depth and the size of the tumoral mass, the area to be treated and the size of the antenna.  
Synchrotherm systems allow to manage the treatments:

o   Under CONTINUOUS flow conditions, with the emission of radiofrequency without interruption.
o   Under PULSATING flow conditions, with radio frequency emission for 30 ms. and the next 30 ms interval.
o   Under RANDOM flow conditions, with casual length for both radio frequency emission and the next interval.
The Synchrotherm systems have a 1200 Watt radio frequency generator, however, to protect the patients, the maximal powers available during the treatments are:
 600 Watt under CONTINUOUS flow conditions

1000 Watt under PULSATING flow conditions (30 ms. interval)

1000 Watt under RANDOM flow conditions (random interval)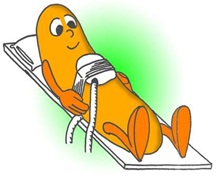 The RF SYNCHROTHERM® applicators are made so that they do not compress the patient, allowing  freedom of movement and the treatment of every parts of the body.
RIGID applicators, with the aim of ensuring efficiency and avoiding erythemas and burns, risk of compressing the patient too much.