ABOUT US
SYNCHROTHERM® devices are the result of thirty-year experience, coming from the collaboration with Dr. Harry Leveen, an American doctor, one of the first to design, and then patent in the '80s, a capacitive radio frequency device for hyperthermia in cancer treatment.
 
The development of the device, with the addition of the cooling system for flexible electrodes of different diameters (patented in 1988) led to the creation of an easy but high performance product, at first with the mark THERATHERM and afterwards, from the late '90s, with the mark SYNCHROTHERM®.

The object of the founder Admeto Rolando was to create a product requiring reasonable commitment in terms of costs and maintenance, but high performant, in terms of efficiency, in order to guarantee the truth of the declared performance and reduce the costs for the centres, making the treatment accessible for a wider range of patients.

Thanks to the experience gained and the collaboration with the founder's technicians, our company, owner of the mark SYNCHROTHERM®, is able to provide spare parts and technical assistance for every Synchrotherm® devices, in addition to new devices properly certificated in compliance with the Medical Device Directive 93/42/CEE and the last version of the relating technical regulations. 
LEVEEN DEVICE

ADMETO ROLANDO


THERATHERM

1984

THERATHERM

1989

THERATHERM

1990
SYNCHROTHERM

1998

SYNCHROTHERM 2RTH

2000

SYNCHROTHERM RF PLC 

2004

                    

SYNCHROTHERM 600T

2008

SYNCHROTHERM RF1200

2014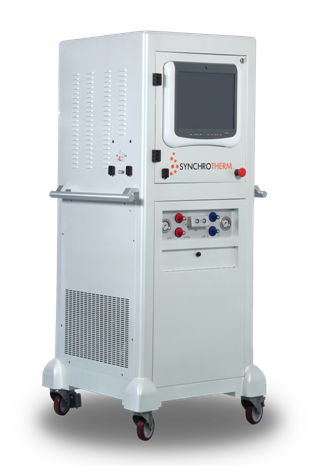 SYNCHROTHERM RF1200S
2017